Chickering & Sons Baby Grand .. $1500
This baby grand was built by Chickering & Sons in 1944. It has been lovingly kept in good condition and professionally tuned and maintained. It is a very nice piano for students and family enjoyment. The owner has valued its fine furniture quality and wants to find a home for their cherished piano. The family are selling their long-time home and this piano must find a family that will continue to show it love.
The low pricing of $1500 is a bargain for any family. To see it and play it, please contact the seller directly at modesti5@frontiernet.net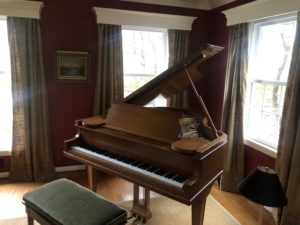 YOUNG CHANG Studio Piano
. . . . $5,400
EXCELLENT CONDITION -
Looking for a piano that will hold its value and still provide enjoyment for your family and students?
This 48" studio upright was made in 1986 by Young Chang [Korea]. It is a good choice for active students and families who love music. It has been professionally tuned and serviced and is in excellent condition. It holds its tune very well. Serial No. 0035193.
This piano needs no repairs - it is ready to play and enjoy for your family, too.
To see and play, email to:  jerry@jwarsaw.com